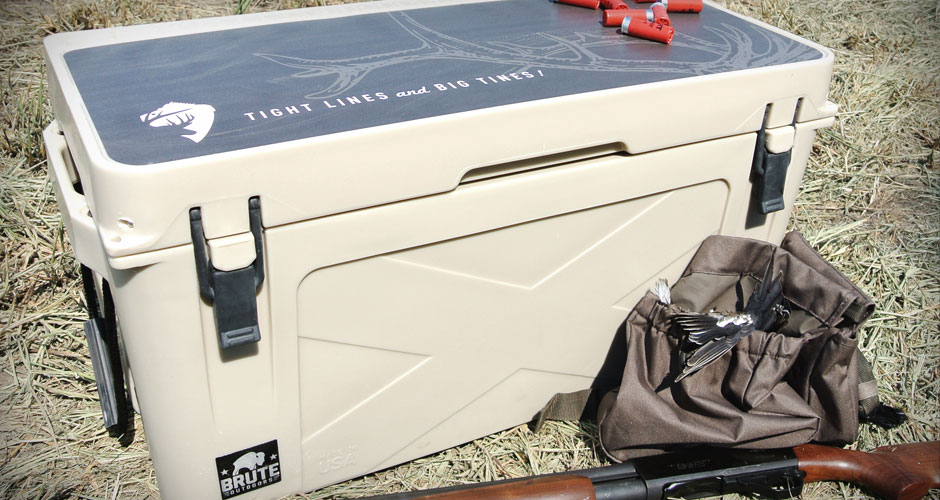 Whether you're at the local Bass Pro Shop or watching your favorite hunting and fishing show, you just can't seem to avoid the advertising for high-end premium coolers claiming to be "So strong, they're <insert beast here>-proof!" They cost up to five times the price of regular coolers and many wonder if they're truly worth it. Well, after a year of beating up our Brute Boxes on various hunting and fishing trips, I can honestly say, yes they are.
"Does it really keep ice longer?" It's the number one question I'm asked about our Brute coolers and the answer is yes. These are billed as "the best 5-day coolers made in the USA," and I've been able to keep ice in them for at least that long thanks to the thickest insulation I've seen in a cooler. A cross-section comparison between the Brute Box and its wildly popular competitor shows just how much more insulation goes into each roto molded Brute Box that comes out of their north Texas facility, run my the nicest of families.
Does holding ice longer justify the price tag on a premium cooler? Of course not, but when I'm going through the checklist and packing all of our gear and camera equipment for a long hunt, it's nice to know that I can fill the cooler with ice the night before and not have to worry about it again the rest of the trip. What justifies paying a premium for a Brute Box is the combination of performance and durability. Through all of our hunts and fishing trips, despite abusing the heck out of these coolers, we have not had one broken latch or hinge on any of them. The plastic is extra thick and the latches are made of heavy duty rubber. And apparently they're backed by a five-year warranty should we need it. With so many other things to worry about on a hunt, the peace-of-mind of knowing that the animal you worked so hard to harvest will be protected is well-worth the price of a Brute cooler. Plus, they just look so damn cool with some of the design details in the form factor including the "X" on the fronts, the custom lid wrap options available and the very handy ruler markings molded directly onto the lid.
There are just one and a half drawbacks to the Brute Boxes: they are heavier than your traditional Walmart cooler and they're pricey. That said, they are cheaper than the more popular premium cooler brands out there so that is why I said there are just "one and a half drawbacks" as opposed to two.
If you'd like to learn more about these 100% American-made 5-day coolers, visit http://www.bruteoutdoors.com. If you already own one, we'd love to hear how they've been performing for you so let us know.
Tight Lines and Big Tines!
Khoa Le
Founder, Tight Lines and Big Tines! (@TrophyHuntingAndFishing)