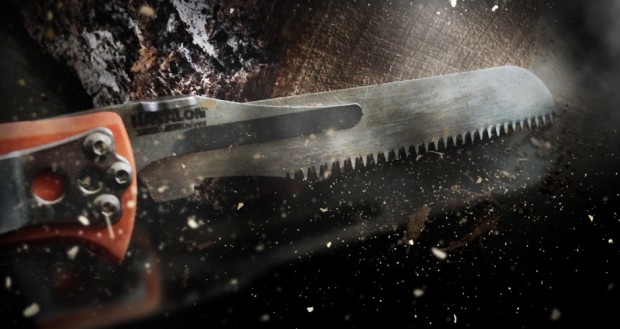 "Work smarter. Not harder." It's something I learned quickly when I started in the guide business. I'm always looking for any tool that will make my job easier. Havalon Knives did just that earlier this year with the Piranta Bolt hunting knife. Now they've done it again with their new sturdy and foldable Baracuta Bone Saw hitting stores this summer.
I had my doubts when I learned Havalon was releasing a foldable bone saw, especially since their surgical blades are typically razor-thin. After experiencing breaks in the past with other brands, I determined that a foldable saw that worked as advertised was as rare as a chupacabra sighting. It's why I gave up and carried a packable hacksaw. Still, I wanted something smaller since I'm usually carrying filming equipment ON TOP of hunting and camping gear and with a folded length of just six inches, I knew I had to give the Baracuta Bone Saw a shot.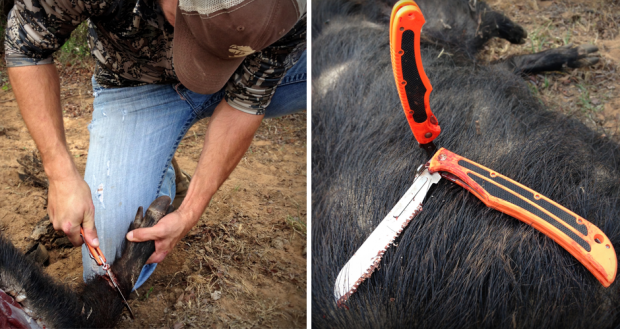 The saw blade was actually sturdier than I expected. It's noticeably thicker than the surgical blades from Havalon and there's not nearly as much flex. I put it to work on a notoriously difficult animal to clean: a big old 300-pound Texas boar. It made quick work of the foot I saved for a batch of menudo. After that I decided to put it to the test on the hog's skull and the saw performed exceptionally well. The blade felt surprisingly substantial for its small size and not once did I think it wasn't sturdy enough. The guys around me could tell I was pleased and perhaps the biggest endorsement of the day came from my buddy, Chris.
We all know a "Chris." He's the guy at camp who swears by the old shotgun or in this case, a hunting knife, that he's carried for decades. He is the last hunter to accept change, and honestly, he didn't care much for the Havalon hunting knives or the idea of a removable blade. That said, Chris could not resist the urge to take the bone saw for a test drive once he saw how well it performed. Hearing "Old Chris" exclaim, "I could get behind this! I don't know about that fancy knife of yours, but I'd use one of these," solidified the fact that I had finally found my "chupacabra," in the form of a foldable bone saw that works. Plus, as a proud owner of the Havalon Baracuta, I had already been using the fillet blade attachment for cleaning fish in the spring and the standard blade on larger game. Having a saw blade that attaches on to the same knife I already own makes for great value and unrivaled portability.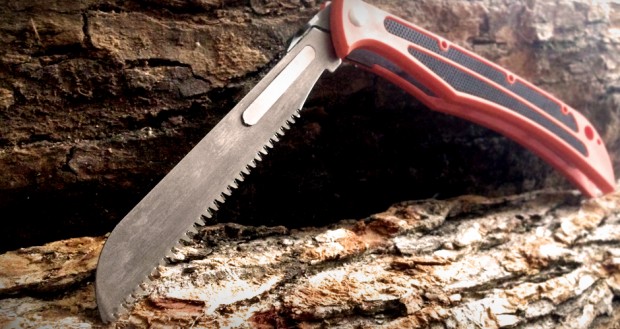 I'm very excited to be packing the new Havalon Baracuta Bone Saw this upcoming season and I'll let you know how it holds up. Look for the saw on Havalon.com or at your local retailers this summer. If you decide to give it a shot, let us know how they work out for you on Facebook or by commenting below.
Tight Lines and Big Tines!
David Frisbie
David Frisbie is a Tight Lines and Big Tines! Pro Staffer and professional guide at Frisbie Outdoors.
See Havalon knives in action in our latest film "Girls Weekend: Texas Hog Hunt."